There is a HUGE GAP between interlining industry and fashion (garment making) industry. Many people may feel confused:
Why? They are in the same industry!
The reality is that the workers in interlining area and those in fashion area are totally different in distinguishing and selecting different types of interlinings.
Interlining producers prefer interlining data
People in interlining area usually distinguish different types of interlining from these aspects below:
Knitting method: warp knit, woven, circular and non-woven…
Coating method: double dots, single dots, paste dots, scatter…
Fishing method: fabric dyed, yarn dyed, water resistance, antistatic…
Fusing strength: low fusing strength below 20N, strong fusing strength over 50N…
They are very professional, and they do know the way how interlining is produced.
Garment makers are more sensuous in hand feeling
However, people who design the fashions, or who make the clothes, has a totally different view from people in interlining industry. What they usually do before the sewing, with an interlining sample book?
The very first step: making COMPARISON of hand feeling.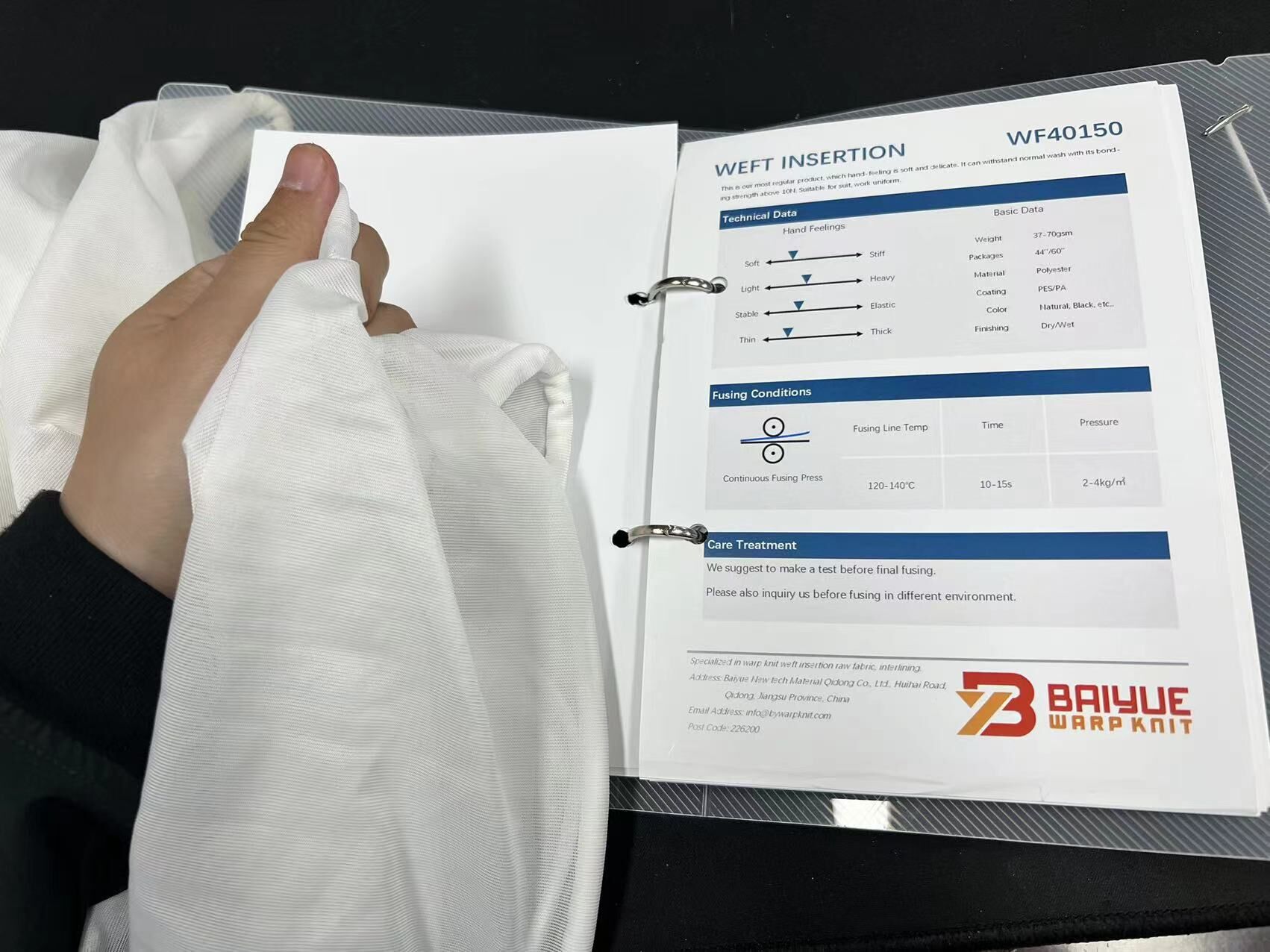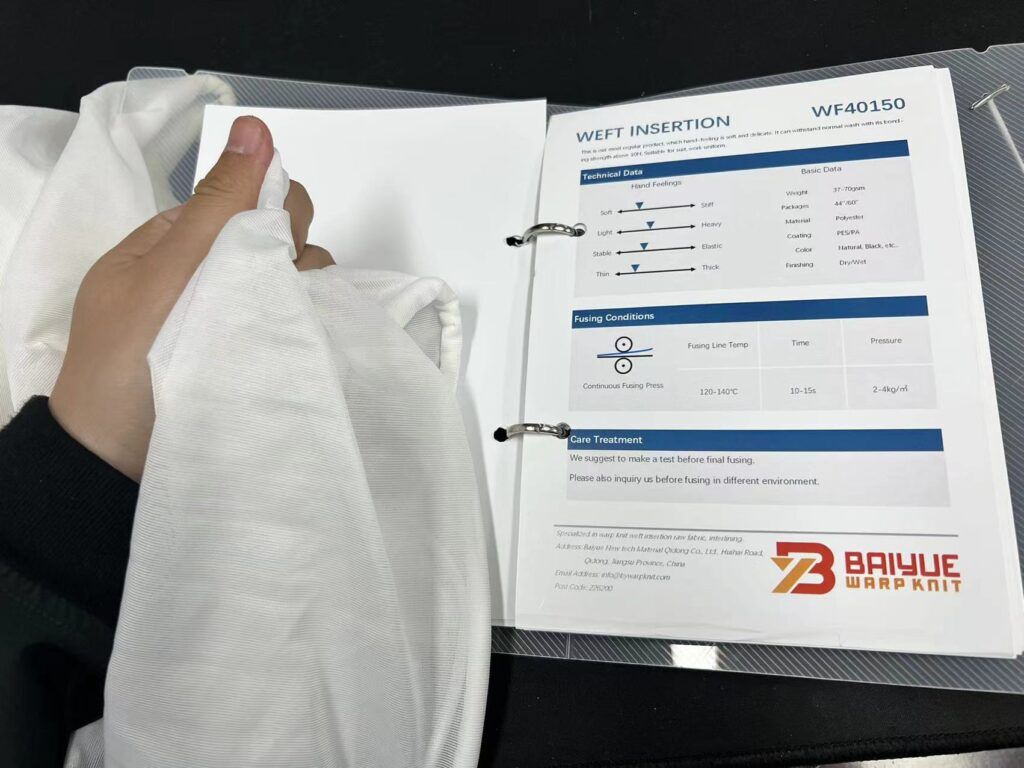 I have been in a cloth making factory for 2 years. I do not know if anyone has seen this situation before: The designer constantly rubs and feels the shell fabric and interlining fabric. They compare the styles between shell fabric and interlining fabric.
The designer in that factory told me that in many situations we choose the interlining from these aspects below:
Thickness: If the shell fabric is thick, you shall choose thicker interlinings
Hand feeling: If you use interlining in collar, sleeve head or placket, you should choose hard hand feeling interlining. In another situation, the interlining hand feeling should be close to your shell fabric.
Washing and ironing: After washing or ironing, some wrinkles and bubbles might occur. You may change the washing method or ironing method first. If this problem cannot be solved well, you may change the interlining first to match the shell fabric.
Differences between interlining producer and fashion designer
It can be easily seen that the fashion designer, or cloth maker is more sensuous than those in interlining industry. Fashion designers focus on FEELINGS more without any accurate data. They compare and choose, and sometimes they can even make changes when a coat has been finished.
Interlining industry people is more professional in testing and data presenting.
The fashion designer emphasizes more on how their customers feeling and how they looked after they put the jacket on. Data from interlining area is always be ignored before they make final testing (washing and ironing).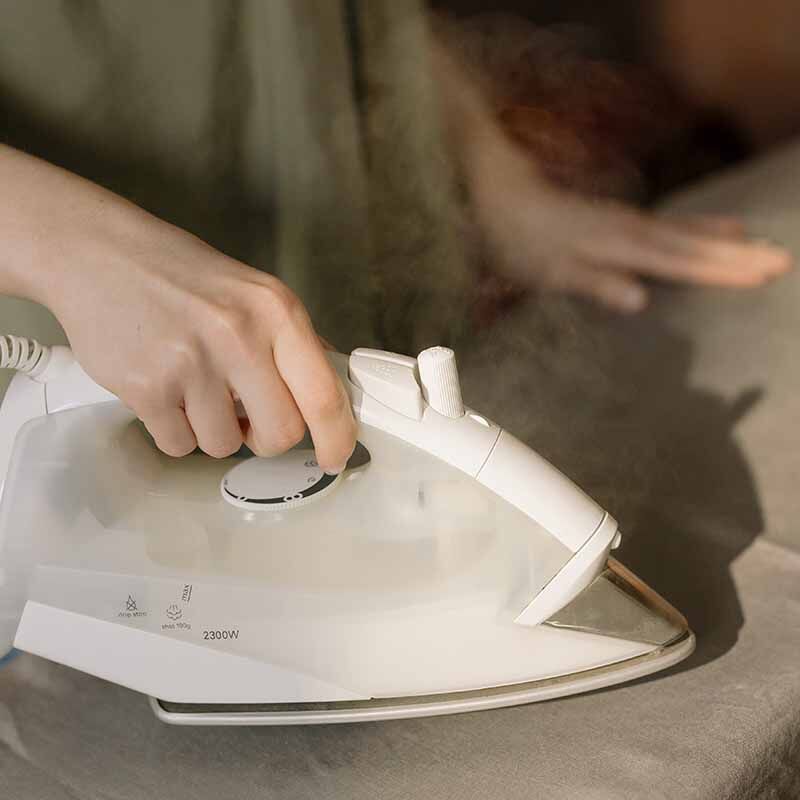 It actually will take longer time if problem occurs. After changing the washing method, changing the ironing method or even change the interlining and remaking the cloth, the order will be delayed again.
If you are a designer in fashion area, or you are a freelancer in a family tailor shop, choose the interlining correctly in a short time is very important for you. A correct interlining can make a piece of cloth a perfect outlooking, but also saves time for customers.
How to choose a correct interlining before sewing at a short time?
The most basic rule is Interlining Always Goes the Same as Shell Fabric. Some people may not understand with this rule. If they follow the steps below, the rule will be surely well understanded from interlining perspective and fashion perspective.
Determine your budget on interlining
Everyone should consider the budget in advance.
If your budget is low, non-woven interlining is your best choice. From thin to thick, from low strength to high tensile, non-woven interlining has the largest range of types.
Compared with non-woven interlining, if your budget is enough, knitted/woven interlining fits your clothes better. This is mainly because our shell fabric of clothes is made by knitted/woven fabric. Non-woven interlining sometimes cannot meet the function as normal knitted/woven interlining.
Your shell fabric style is important
Interlining Always Goes the Same as Shell Fabric. This is the basic and most important roll.
If your shell fabric of clothes is knitted fabric, we persuade you should choose knitted interlining, such as interlining knitted by warp knit machine or circular knit machine.
If your shell fabric is woven fabric, you should try to use woven interlining weaved by water jet loom, air jet loom or other weaving looms.
Try to use the interlinings which are made of the same raw material as shell fabrics.
When you wash and iron the clothes, the shrink percentage, hand-feeling and other characteristics can be very similar between shell fabric and interlining. The wrinkles, bubbles and seam slippery can be avoided effectively.
What kind of your clothes at last?
When you have decided what basic fabric of interlining, you should decide the basic styles of the interlinings, like weight, hand-feeling, density, etc… These styles are generally affected by what kinds of clothes which you will make.
| | |
| --- | --- |
| Men's clothes, winter clothes and suits | You should choose soft and relatively thick interlining. The interlining should form a good shape for the clothes outlooking. |
| Lady's fashion | Usually, lady's fashion will choose Soft and thin interlining. Woven interlining below 50D will be good choice. |
| Daily sport fashion | Elastic, soft interlining is better choice. In some special sport area, realize the sport function is much more important. |
| Child's choice | It should be totally no harm. Make sure use soft and good hand feeling interlining. |
| special parts of hard interlining | In hat, collar and collar stand, sleeve cuff, placket, waist, fly facing, pocket, zip guard and armhole, above you should use relatively hard interlining. this aims to protect the seam of sewing to avoid bad shape. |
If you have met some other type of clothes, discussing with interlining factory in advance will also be a good choice.
Adhesive coating and wash method
There is an adhesive coating (like small dots) on one surface of interlining.
If you are in an old tailor shop and made garment by hand, you may usually choose a very good quality fusible interlining or interlining without adhesive coating. If you choose fusible interlining, low temperature fusible interlining is more suitable for you. You can fuse the shell fabric and interlining with an iron and small press strength. This kind of interlining is always designed for normal wash over 60℃ and dry wash.
In other situation, especially in men's suit tailor shops, they use no-fuse interlining rather than fusible interlinings. They sew the interlining with the shell fabric inside carefully for better outlooking.
However, in most factory massive production, fusible interlining is most welcomed because of time saving and low cost. They use continuous press fusing machine, of which temperature is higher and press strength is more stable. Some situations below can help you to choose different adhesive coating.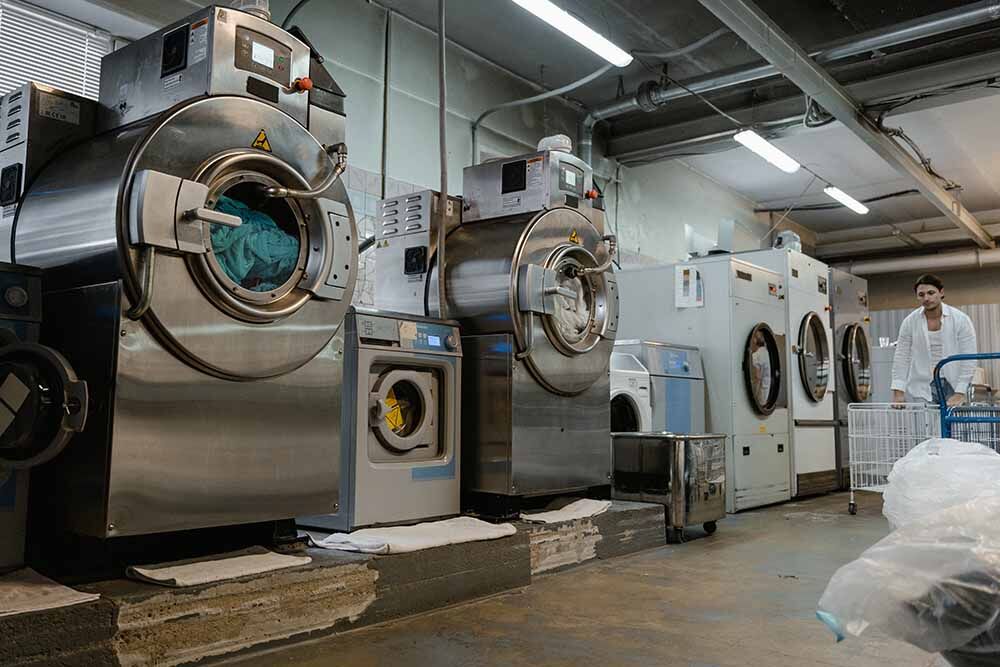 – normal wash
PES adhesive coating is suitable for many wash situations. From 40 to 90℃,even in enzyme wash, it shows a good performance in different quality. However, it cannot stand dry wash to some degree. The fusing temperature is around 130-140℃, and the pressure of fusing is around 2-4kg/cm2.
– dry wash
We use normal PA as dry wash choice. PA has many types. If you choose the NORMAL PA, it can have a good performance in dry washing but not a good performance in normal wash in water.
– normal and dry wash both
Nowadays, both normal wash and dry wash can be requested in one piece of garment. In PA series, interlining factories have developed more types to fit different wash situation.
PA40/PA60/PA90/PA-EZYME, these adhesive coating above can fit both dry wash, and 40-90℃, even enzyme water wash situations.
– special parts in one piece of garments
In some hard parts we have referred above, such as hat, collar and collar stand, sleeve cuff, placket, waist, fly facing, pocket, zip guard and armhole, HDPE and LDPE series will be used in hard interlining.
– special shell fabric
Some special shell fabric, like leather, you should choose low temperature and good fusing strength adhesive coating. Please do discuss with interlining factory in advance and avoid harming the shell fabric.
Advice, test, and feedback from interlining company
Finally, it is very important, clear talk and discuss between interlining factory will help you much.
After following the steps above, your choice range of interlining will be much smaller and clear. Then you can give your range of choice to your cooperating interlining company.
Please do ask for some advices from interlining company. In interlining weight, coating patterns, density, wash method and other details, interlining company is more professional to give you detailed data.
In addition, you should also fuse interlining with a sample shell fabric in advance. In this step, you can make some tests include: fusing bond strength test before and after wash, the seam slippery after sewing, heat shrinking (ironing stability) test or even total chemical test. This can find the problems in advance and find the solutions in time.